With Houngan Hector Salva – World Renowned Sansista Medium
Priestess Shoshana Des Chenes – Sansista at Priestess Works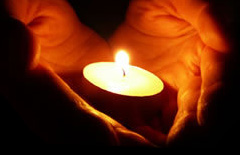 Mediumship Skills
October 4th 2014
12:30 – 2:00
Register $99
Workshop Syllabus
Mediumship Skills
– A comprehensive course designed by Papa Hector Salva and the Gade Nou Leve Society.
-Together, Priestess Shoshana and Houngan Hector will share their invaluable knowledge and experience with you.
– In this full curriculum you will learn what you need to know to enhance or begin your mediumship work.
– As we enter Autumn, spirits are abound, learn to communicate more effectively, while being safe and assured your practice is taking the right direction.
1. MEDIUMSHIP BASICS
2. MEDIUMSHIP AND COMMUNICATION
2. SPIRITUAL CONTACT
3. PROTECTION AND SAFETY
LUNCH (2:00pm – 3:00pm)
Free Misa Espiritual
3:00 – 6:00 Mediums Channeling
CONSULTATIONS WITH PAPA IN PERSON WILL BE AVAILABLE WHILE HE IS IN CALIFORNIA.
EMAIL US TODAY AT help@greatestspells.com TO REGISTER OR GET MORE INFORMATION.